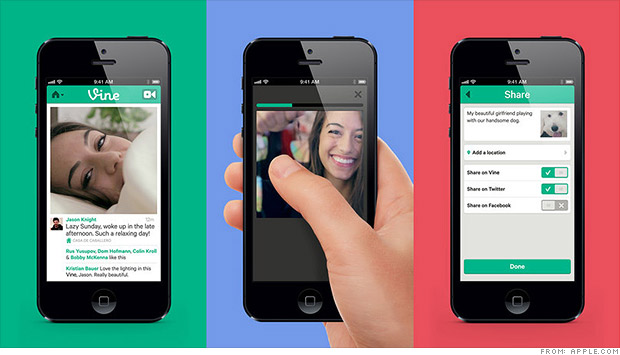 Snap. Click. Shoot. That's what thousands of Apple iPhone and iPad users are doing with Twitter's new video app, Vine, "that lets you create and share beautiful, short looping videos."
To compete with the growing popularity of Instagram, which was acquired by Facebook 10 months ago, Twitter answered back with it own standalone app and network that lets you make and share six-second video clips, similar to animated gifs, which are making a comeback among Generation Y. What makes the app unique, compared to previous video recording tools on any mobile device, is the ability to shoot clips in multiple shots and frames to capture several moments in any given time period, empowering users with the ability to tell an overall story rather than narrating only one moment in time.
Want to see what early adopters have created thus far? There are several Vine video search engines popping up across the web that provide continuous streams of recently uploaded Vine videos, as well as hashtag targeted search options to find videos of interest. Below is a list of the latest and greatest for your Vine viewing pleasure.
VineRoulette (Online)
For folks who know what they are looking for in a Vine video, VineRoulette features a useful search bar that displays dozens of Vine videos in an attractive collage display. When highlighted, the image will expand to display the full tweet and play the video with no clicking necessary. The downside, since there are a large amount of videos displayed at once and continually refreshing, it may take several minutes before videos are fully loaded before they begin to play.
Vineyard (Online)
One of the newer sites out there and based out of the UK is Vineyard. It offers simple search capabilities that will display up to 9 Vine videos that include the searched keyword and/or hashtag. Once the site is fully loaded, all the videos will play automatically. To hear sound, simply hover over one of the videos and voila! Compared to other search engines, Vineyard does not automatically refresh with new videos. Also, one flaw I found was the site displayed the same set of videos even when refreshed. Appears to be some bugs that still need to be worked out.
Vinepeek (Online)
For those looking to fulfill their voyeuristic desire and don't care what they see, Vinepeek is your answer. The site displays newly-posted Vines in realtime in one continuous and randomized stream. Simply visit the site, sit back and enjoy the world in 6 second clips. One interesting feature is the record option which allows you to save up to 30 seconds of viewed Vines. This may be useful for saving videos you find interesting, but doesn't pose any practical use for brands or agencies as videos are random and can't be filtered by hashtags or keywords.
All Around The Vines (Online)
Similar to Vinepeek, All Around the Vines plays one video at a time in a continuous stream. One major benefit is not only the full screen display, but the ability to view trending Vine video hashtags. Although it doesn't feature a search box, you can still search specific hashtags by modifying the URL. Simply add "/#KEYWORD"to the end of the ULR for a custom search. For example, if I wanted to search for #Blackhawks Vines, I would modify the URL as http://www.allaroundthevines.com/#blackhawks
Vines Map (Online)
Vines Map offers a unique perspective on where Vine videos are being recorded from around the world, but there is a downside; Vines Map doesn't allow you to choose the Vines on the map you want to watch. With it's restrictions on videos available for your viewing pleasure, it still offers a unique view on the most popular countries where Vines are created.
Just Vined (Online)
The least creative of the collage display formats and unfriendly when it comes to upload time, Just Vined plays the 20 most recent Vine videos all at the same time. The waiting time to load 10 Vine videos at once is bad enough.
You have the option to un-mute individual video and if you click on one of the videos, a pop-up will load its permanent page on the Web, but beyond that there is no identifiable information revealed about its originator. I'd recommend you stay away, unless you enjoy the chaos of several videos playing at once.
Vine Flow (Android)
If you're an Android user who has been wondering what all the hype over Twitter's Vine app is about, you're in luck. A new Android app called Vine Flow allows Android users to browse Vine videos on their device. But there are some pretty big drawbacks to the app. Currently you can only browse the latest videos uploaded to the service, or search for a specific hash tag. You can't upload a video yourself, log in and view a timeline, or even navigate to a specific Vine feed.
CNET How To : Vine Flow lets you browse Vine videos on Android
Brands and Vine
A recent Ad Age article focused on how smart brands have started to adopt Vine as new social platform for storytelling, while still learning how to work around the six second limit, similar to how brands needed to adjust to ways of communicating with fans and consumers in 140-characters or less on Twitter. The most popular uses for Vine include:
Behind the Scenes
Many brands already have different versions of the same video ad for different formats (such as a shortened pre-roll ad for Internet video edited from a longer-form TV ad). Vine can further complement this by making snippets of behind-the-scenes footage available where appropriate.

Location
One of the biggest advantages of Vine over other video platforms—most notably YouTube—is that it more easily adds geo location data to posts. This can get real interesting for local restaurants or other vendors looking to Vine as a way to draw in customers in the immediate vicinity… something to keep in mind when creating a Vine video.

Contests
Release new ads or other long-form videos in 6-second teaser segments unlockable only after certain follower or retweet milestones are met. This can be done as a ramp-up to the premier of the ad, particularly for marquee ads (like those unveiled during this last Super Bowl) or for other types of announcements.

User-generated content
Ask customers to submit Vine videos of themselves using your product, and perhaps even compile the best into a longer-form ad used on another platform.

Product demos
Short, how-to videos for products that can use either an extra hand in educating the public on how it's used, or to showcase creative ideas for how to use a product that may not come immediately to mind.

There are sure to be other examples and lessons as Vine matures as a platform over time. With more than 500 million registered Twitter users, any experiment is sure to generate useful data for informing future best practices.
The Future of Vine
Until Twitter releases the app to a larger user base, specifically the 500 million activated Android smartphones that have have surpassed the current 410 millions active iPhones, it's unclear if Vine will have the fortitude to reach the likes of Instagram's growing popularity and easy user adoption. As you might have seen during your Vine searches, Vine videos, thus far, appear to be very amateur and without meaning, whereas Instagram allows any rookie photographer to create stunning and professionalism quality images with simple image filters. If everyone of these items is met, their may be hope, but it relies on its users learning a new way to record and share their lives — and on feeling that that is something they need.
What are some creative ways you've seen users and brands use Vine? Will you use Vine if it's released to Android?